Whoo hooo!  Our package came!  We were soooo excited to participate in our first Blog Swap.  We love reading Raven and Lindsey's blogs, these girls are a riot.  You must head over and check them out.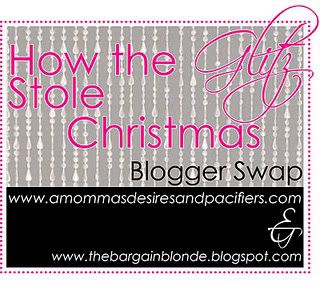 We had a rough start with this swap.  The first blog we got teamed up with suddenly fell off the face of the earth….bah hum bug!  We had our gift ready and everything, so we emailed Lindsey and told her what happened and she was on it fast!  We were teamed up with this awesome chick named Katie that was thrilled to come in at the last minute and save the day. Katie blogs over at Katie Lately.  She is super cute and just made a big move and it sounds like she is loving it.  We are really excited to get to know her better and follow her new life.
We waited to open this gift at work so we could do it together.
Look how cute our gift is!
There were 4 little bags in one!
We received some O.P.I polish (which we love to go get Mani's and Pedi's)  Kristin took the polish and the nail bling.  (We can share the polish)  ").  I(Camie)  have been wanting some bracelets with gold in them, so I snatched them up ASAP!  We each got a sparkly reindeer ornament and we hung them on our stockings at work.  We love all our gifts. Thanks Katie!!!!!
We have had such a great time looking over everyone's blogs and looking at all the goodies.  Would love to do this again!!!!  We hope everybody has a very Merry Christmas. 
Kristin & Camie